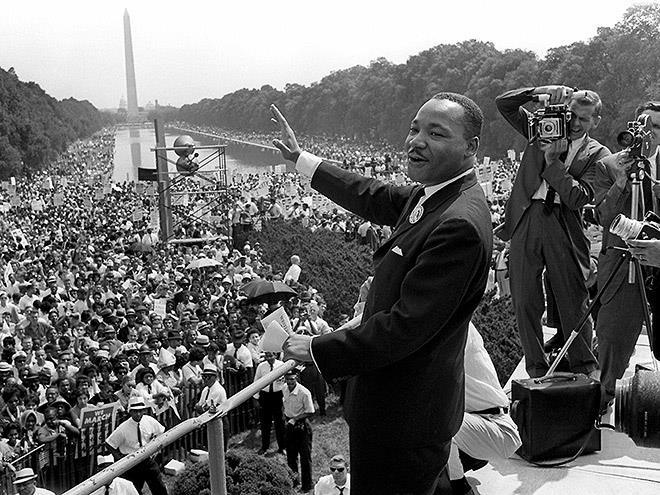 "A day on, not a day off."
Martin Luther King Jr. Day is often seen as an opportunity to volunteer or give back to our communities. Below, you'll find a list of virtual and in-person service activities happening around the country on Monday, January 17.
Martin Luther King Jr. Day of Service, 2022
Advocacy: Fair Housing in Illinois – Virtual
MLK Jr. was a leader in pushing for fair housing and housing rights, so on Monday honor his memory by taking virtual action on an Illinois bill to prevent housing discrimination based on your source of income. We've got an email link you can use to message your elected officials. Take action today!
The Smithsonian – Virtual
Become a Smithsonian Digital Volunteer and help them make historical documents and biodiversity data more widely available and more accessible to people with vision impairments.
Library of Congress – Virtual
The Library of Congress has a digital transcription project similar to the Smithsonian! Volunteers create and review transcriptions to improve search, access, and discovery of these pages from history. You don't even have to create an account to start transcribing. Just type what you see. Learn how here.
The Anti-Cruelty Society – Virtual
Join a virtual DIY pet supplies crafting session! Free crafting kits are available ahead of time, or bring your own based on materials listed on the full event description. Make beds and toys for homeless pets while watching live dog-training demos with Anti-Cruelty staff.
Chicago Cares – Virtual
Chicago Cares is hosting community reflection sessions in honor of MLK day from January 13 through the 31st. They need volunteers to assist in leading activities in virtual break-out rooms.
Cradles to Crayons – Donation Drive
Got gently used school supplies that need a new home? Drop them off for Cradles to Crayons at one of 37 donation points around Chicago.
United Way of Metropolitan Chicago – Virtual
Get an inside look at the Chicago Freedom Movement with the Urban Historian and TikTok sensation Shermann "Dilla" Thomas during this exclusive conversation hosted by Tamiya Aurel. RSVP for this webinar here. Additionally, support your neighbors this Martin Luther King Jr. Day with care kits. United Way of Metro Chicago's community partners have put together a list of supplies they need to support neighbors' basic needs this winter: food, clothing, hygiene items and more. Help them gather these essentials into kits and then donate them to one of their agency partners near you. Download care kit instructions here.
My Block My Hood My City – Donation Drive/In Person
This year, My Block My Hood My City is collecting winter weather gear for Chicago's at-risk unhoused people. From 10am-12pm on January 17th, drop off donation items at the Olive Branch Mission at 6310 S. Claremont. Items such as (coats, jackets, gloves, socks, scarves, hats, etc.) for all genders and ages are needed.
Sign up to volunteer on site here.
SkyART – In Person
From 11am-2pm, SkyART welcomes volunteers to pack art kits for youth living in Chicago, a special initiative they implemented during the pandemic to keep students engaged in creativity. They will also be giving a new coat of paint to their small art gallery space where SkyART students showcase their work. Please be prepared to show proof of vaccination and complete a health screening upon arrival.
School Clean-Up and Book Donation Drive – In Person
Join volunteers at Tanner Elementary School to paint, design a mural, organize closets, or assist with other beautification efforts. Snacks and light refreshments will be served.
Tanner Elementary School currently does not have a library. If you have books you can donate to their library, it will be greatly appreciated.
---
Looking for something different? Search for other opportunities below.
AmeriCorps has a searchable database of MLK day volunteer opportunities. Put in your zip code and click on the "MLK Day" box to see what's available.