#ADA33 Recap: This Week in Disability Pride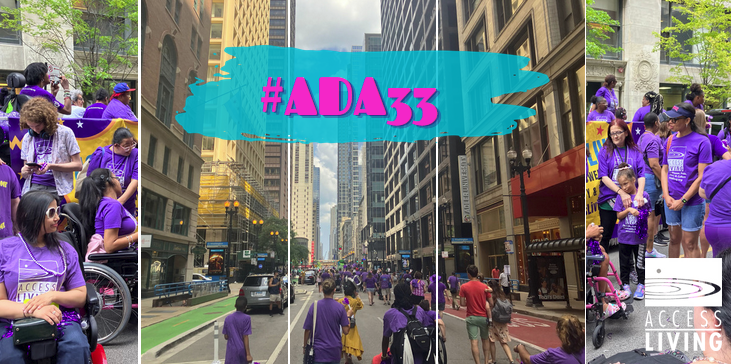 The ADA has been a beacon of hope and empowerment for our community. Though we know there remains work to be done, this week we took a moment to celebrate the accomplishments of our past. Here are some of the ways we honored the occasion.
The 2023 Disability Pride Parade
July 22, 2023 – Downtown Chicago
We took to the streets of Chicago this past Saturday for the annual Disability Pride Parade! Check out the pictures and media coverage.
Executive Vice President Daisy Feidt on WBEZ
Listen to Access Living's Executive Vice President, Daisy Feidt, and Disability Lead Executive Director Emily Blum discuss disability and employment on a WBEZ Chicago radio segment. Unfortunately as of 7/28/23, there is not a transcript available, but check back for updates.
New Music Video from Lachi
Award-winning multi hyphenate artist Lachi was the 2023 recipient of Access Living's Lead On award at our annual gala where she gave us a preview of her newest song and music video. The full music video dropped this week on July 25.
In Lachi's own words: "The song is an anthem ode of friendship and love for community, released by RAMPD Records in tribute to the late disability activist Judy Heumann. From the cast, to the crew, to the artists and producers involved, I couldn't have asked for a better team! All are well-established and super-talented, with the majority having some form of disability or neurodiversity. The music video showcases an all-star all-authentically Deaf/HOH cast signing our lyrics front and center. We as artists are here to tell culturally impactful stories through high-quality art. And I say pop culture is ready for authentically told disability narratives!"
Watch: