Artist and Advocate: Ginger Lane remembers her introduction to disability, her love of dance, and the fight for the ADA
Until she retired in December of 2019, Ginger Lane was one of Access Living's longest standing employees. She worked at Access Living for 30 years, and has the stories and accomplishments to prove it. Ginger retired from her role as Co-coordinator of Arts & Culture at the end of 2019. Access Living is extremely grateful for the work done by Ginger, and she will be greatly missed.
Some of Ginger's accomplishments while at Access Living include: starting and coordinating Access Livings peer counseling and arts and culture programs, establishing, producing, and directing CounterBalance (Access Living's dance program), advocating for the passing of the Americans with Disabilities Act, and traveling with Access Living staff to hear Nelson Mandela speak.
The Golden Age of Rehab
Ginger acquired her spinal cord injury in a skiing accident in 1984, and underwent rehab at the Rehabilitation Institute of Chicago (now the Shirley Ryan AbilityLab). Ginger described this as the 'golden age of rehab,' when rehabilitation services were far more extensive and thorough then they are today. Emphasis was placed on physical and emotional healing; she notes that this all-encompassing approach to rehabilitation played a large role in the well-rounded person she is today. There was a lot of comradery amongst the patients in the program because they were all going through similar things together. Peer support played a crucial role in healing the whole self, something that doesn't always happen in current rehabilitation settings where patients only stay for a few weeks.
Ginger spent a total of seven months working on healing her body and mind. She received physical therapy, occupational therapy, psychotherapy, met with social workers, had group and individual therapy, worked to reintegrate into the community, and formed a bond with other spinal cord injury patients.
"That time gave all of us that were there the opportunity to do some physical healing and getting accustomed to a new body, a spinal cord injury is not only a physical assault on your body, it's an assault on your whole sense of self as well." Ginger said. "You knew who you were to some degree before, and now you didn't know anything."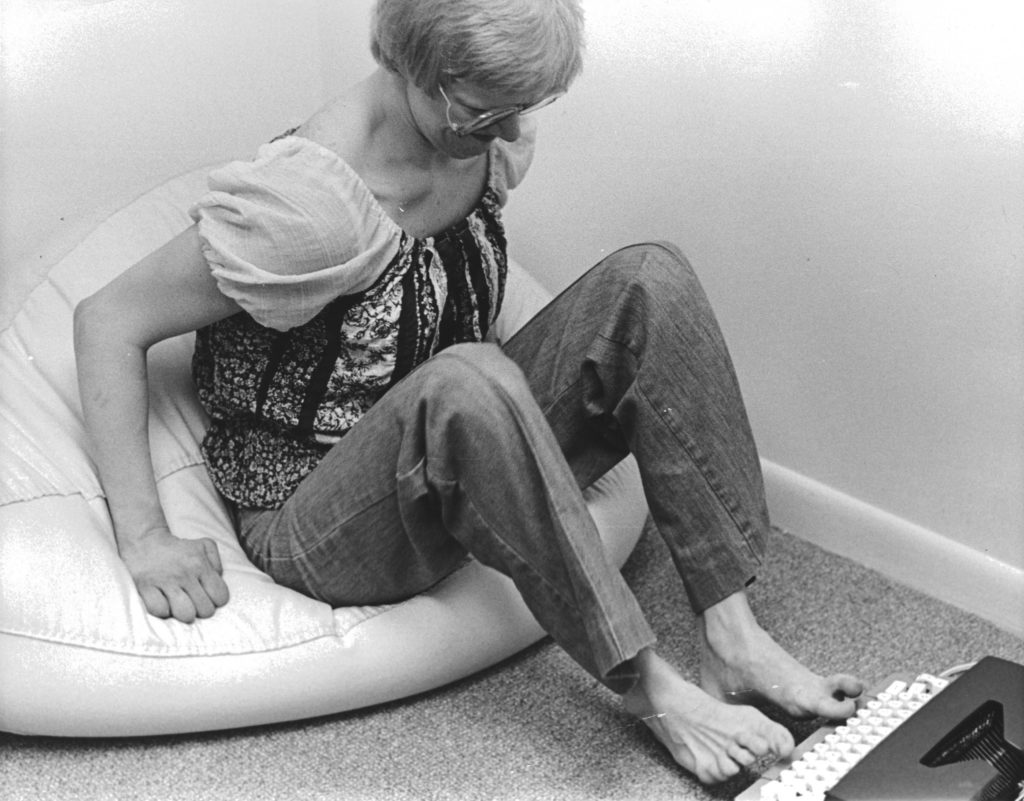 Ginger first heard about Access Living when she visited the office as part of her rehabilitation program. The first person she saw when she arrived was the receptionist, who was answering the phone and typing with her feet. "When I walked into the office, it was like a whole new world opened up, and I thought, 'oh my God, this is a world I have to know about.'"
Joining Access Living
Initially, Ginger had hoped to just come on at Access Living as a volunteer. After leaving her rehabilitation program, she had spent several years working on adjusting to her new normal, and after hearing about a grant that Access Living had received, she decided to look into volunteering within the peer counseling program. It didn't quite pan out that way. Instead of being taken on as a volunteer, Ginger was hired as Access Living's Peer Counseling Coordinator.
She was responsible for supporting patients with spinal cord injuries who were in rehabilitation programs at RIC. Ginger's role grew to provide education support to nurses, doctors, interns, and other staff. In addition to the support groups she led at RIC, Ginger was also leading support groups at Access Living.
Her role grew into a more forward-facing education role that took her out to the community to do disability awareness and education trainings for various groups of people such as police and fire departments and the Chicago Housing Authority.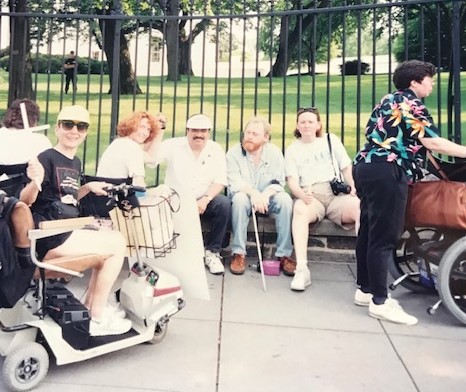 Fighting for the ADA
In early March of 1990, Ginger Lane, Access Living, ADAPT, and disability advocates from around the country descended on Washington, D.C. with one goal: get the Americans with Disabilities Act passed promptly and without any weakening amendments. This gathering of activists remains one of the most iconic rallies in the history of the disability rights movement, when advocates, denied access to their legislators, got out of their wheelchairs and crawled up the steps of the Capitol Building. Ginger was among their number.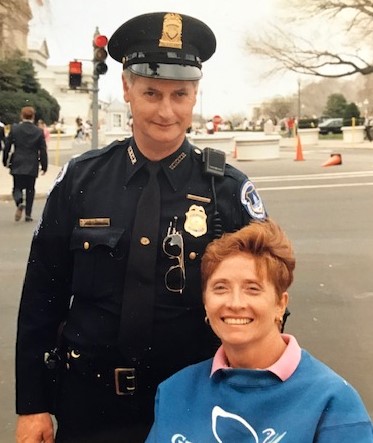 "And then we all got arrested! It was so wonderful," said Ginger. "104 of us got arrested. We were in the rotunda, chanting, and chanting is not allowed in the Capitol rotunda. And we all locked our chairs. It was passive resistance. You just sat their and let them drag you."
And drag them they did. The Capitol police marched all 104 activists through the tunnels beneath the Capitol building. "They took us to a huge holding room, photographed us, took our fingerprints. They put us in rows and said, 'don't move and don't talk,'" remembers Ginger. "So what's the first thing we do? We all started moving and talking."
Eventually, all 104 activists were released from police custody with instructions to present themselves at a D.C. courthouse the following day. "The courthouse wasn't accessible," said Ginger. "So we demonstrated right there!"
Integrated Dance
Dance has always been a big part of Ginger's life. Before her accident, she choreographed, taught, and performed in a wide variety of settings. She had a studio where she taught classes and choreographed for the North Shore School District. She would also choreograph and preform for the local community theater.
After her injury, Ginger felt like dance was off the table. "I felt like I could no longer dance, I'm a very physical person and that was a huge part of my life, and to be suddenly hit with a spinal cord injury at the quadriplegia level…I just couldn't imagine dance sitting down in a wheelchair." So, she shifted focus to peer support and counseling, though she missed having dance in her life.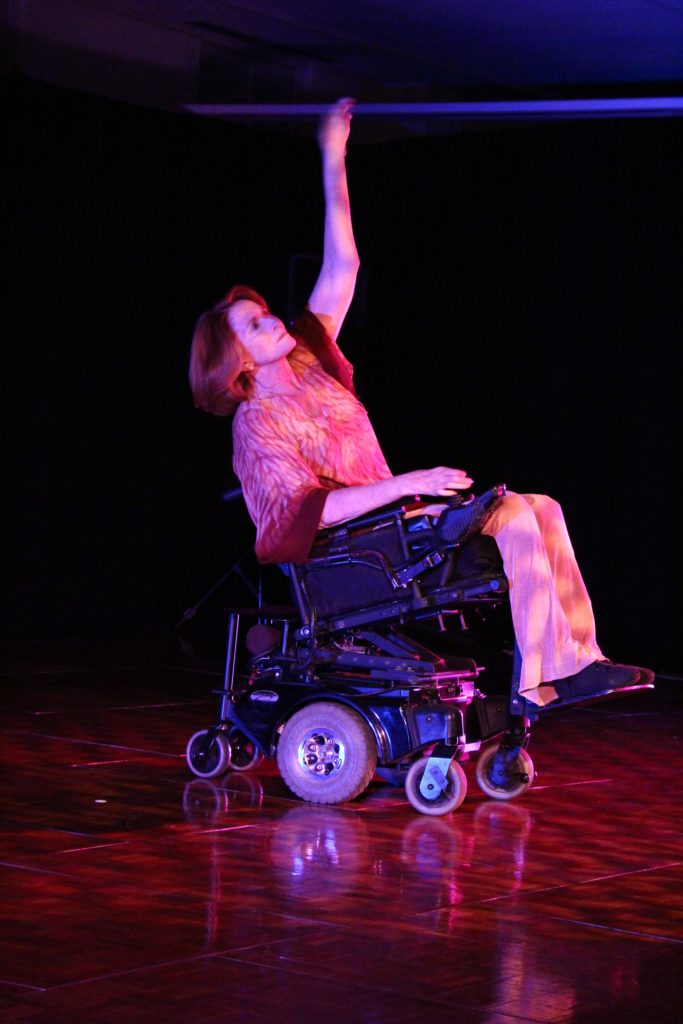 She found herself back on the dance floor after meeting a handful of people who understood the importance of integrative dance. This was enough to reignite the passion that Ginger feared she had lost. She started to dance again and work with other professionals working in integrated dance.
In 2007, Access Living's living headquarters at 115 W. Chicago Avenue opened, and shortly after the Access Living Arts & Culture program was born. Ginger became a coordinator of the program, and had high hopes of bringing dance to the program. She pushed to install a removable dance floor in the Access Living event space, and while that didn't happen, it didn't stop Ginger from bringing dance to Access Living.
Ginger reached out to other dance companies, began planning and choreographing programs and bringing other people in, and before she knew it, dance became a part of Access Living's Arts & Culture offerings. By 2011 the program had grown even more and Ginger was bringing in dancers from across the country. "My focus is on creating something that is aesthetically pleasing and challenging," Ginger said about her work as a choreographer. "The secondary focus is on community, but I wanted to create work that would challenge an audience to think about myths and stereotypes [about disability] that they hold."
More Than a Feel Good Show
Ginger is drawn to the transformative power of dance for many reasons, including the role it plays in enhancing quality of life for both performers and audience members. Because Ginger's rehabilitation process included heavy emphases on mental and emotional recovery as well as physical recovery, her work in integrated dance reflects the importance of nurturing the emotional and mental as well as the physical.
One of the things Ginger has been trying to do is bridge the gap between integrated dance as a form of therapy and integrated dance its own, legitimate, worthy art form. "We [artists with disabilities] want to be judged on our artistic merit," said Ginger. "We don't want to be accepted as, 'oh those poor people isn't it nice that they're out there preforming.'"
Bridging that gap involves breaking down some key barriers. "The expectations for dancers are the perfect 'ballet body' and exceptional physical ability." said Ginger. "Well, dancers with disabilities don't fit that mold." Ginger says that acceptance is growing, but there is a long way to go. In the meantime, Ginger continues to advocate for the validity of integrated dance, within both the disability and abled communities.
As Access Living celebrates its 40th anniversary, Women's History Month, and the 30th anniversary of the ADA, we are grateful to have had Ginger along for so much of our ride as an organization. Ginger brought so much growth to Access Living, and she was instrumental in setting the foundation for what arts and culture could and should look like for people with disabilities.