Tour Access Living During the 2022 Open House Chicago Festival
Access Living, LCM Architects, and Elevate on accessible, universal, and green design
Access Living is pleased to open its doors, at 115 W. Chicago Ave., from 10am to 5pm on Saturday, October 15, as part of Open House Chicago.
Join us and our community partners LCM Architects and Elevate to experience accessible, universal, green design firsthand and to learn how it can and should be incorporated in our city spaces. Also stop by the Elevate table to learn about how to incorporate energy efficiency and high performing building features to make every structure more sustainable and affordable!
Guided hour-long tours with our building's architects and program experts, who have lived-experience with disability, will be offered at 10:30am, 12pm, 1:30pm and 3pm on Saturday, October 15.
RSVP for a guided tour now, or stop by anytime on Saturday to say hello, tour our lobby and learn more. We look forward to welcoming you!
Questions about accessibility or reasonable accommodations? Email Bridget Hayman at Bhayman@accessiving.org.
Meet Your Tour Guides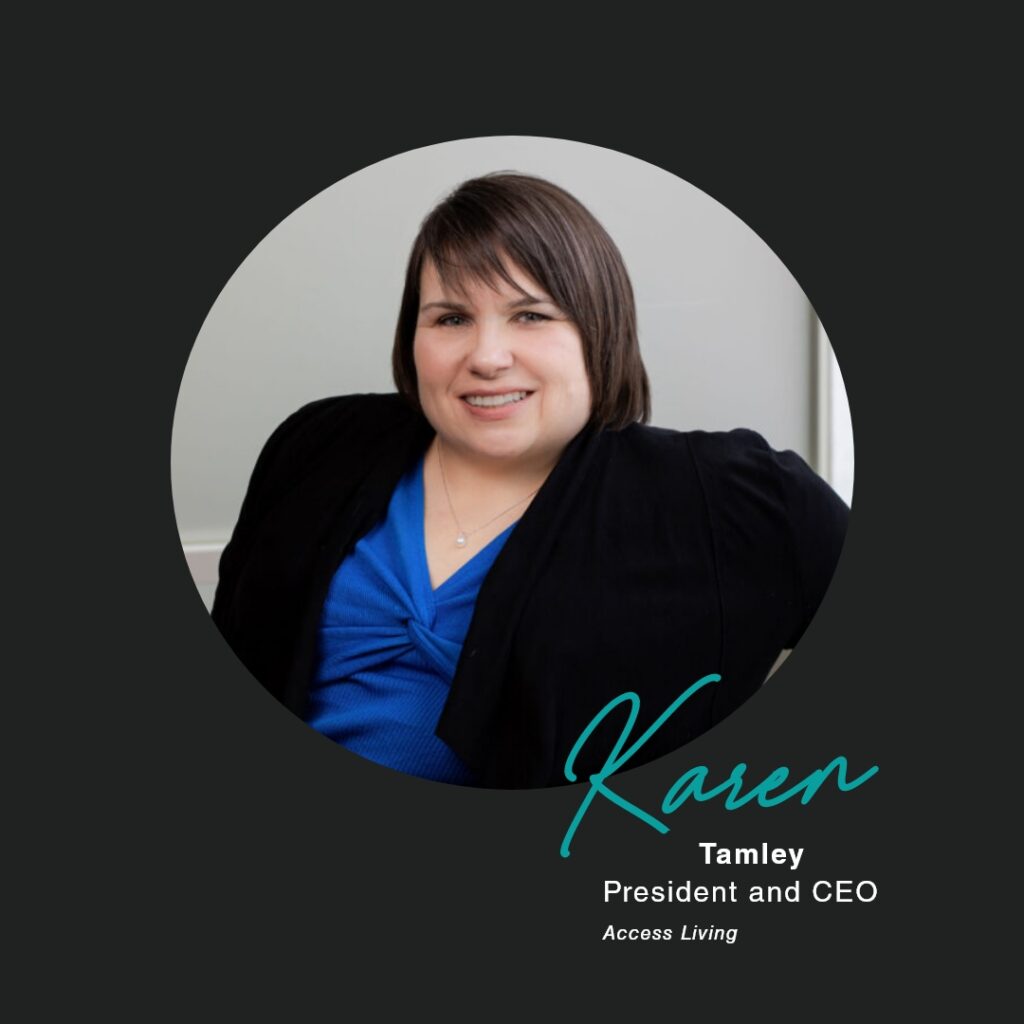 In March 2020, Karen became the new President and CEO of Access Living after serving as the Commissioner of the Mayor's Office for People with Disabilities for 15 years. Throughout her career, Karen has advanced accessibility and disability inclusion in transportation, infrastructure, emergency planning, education, and employment, and overseen the delivery of direct services to thousands of Chicago's disabled youth and adults. She is a dedicated advocate for the disability community.
A founding partner and Partner In Charge of Architecture at LCM, Dick integrates the firm's accessibility specialty in the design and building process, changing lives and breaking new ground by signaling that spaces can be objects of good design that also are inclusive of a broader, often marginalized, group of people. He is a frequent presenter on the topics of universal and sustainable design.
Jack has been a pioneer in creating environments for people with disabilities by promoting design elements in the built environment that advance a more inclusive, sustainable society. In this capacity he has traveled the globe, speaking and advising on topics related to universal design and accessibility standards, and has received numerous awards for his leadership in the field. In the early 2000s, Jack was instrumental in the creation of Access Living's award-winning headquarters.