"Stopping discrimination is only the first step."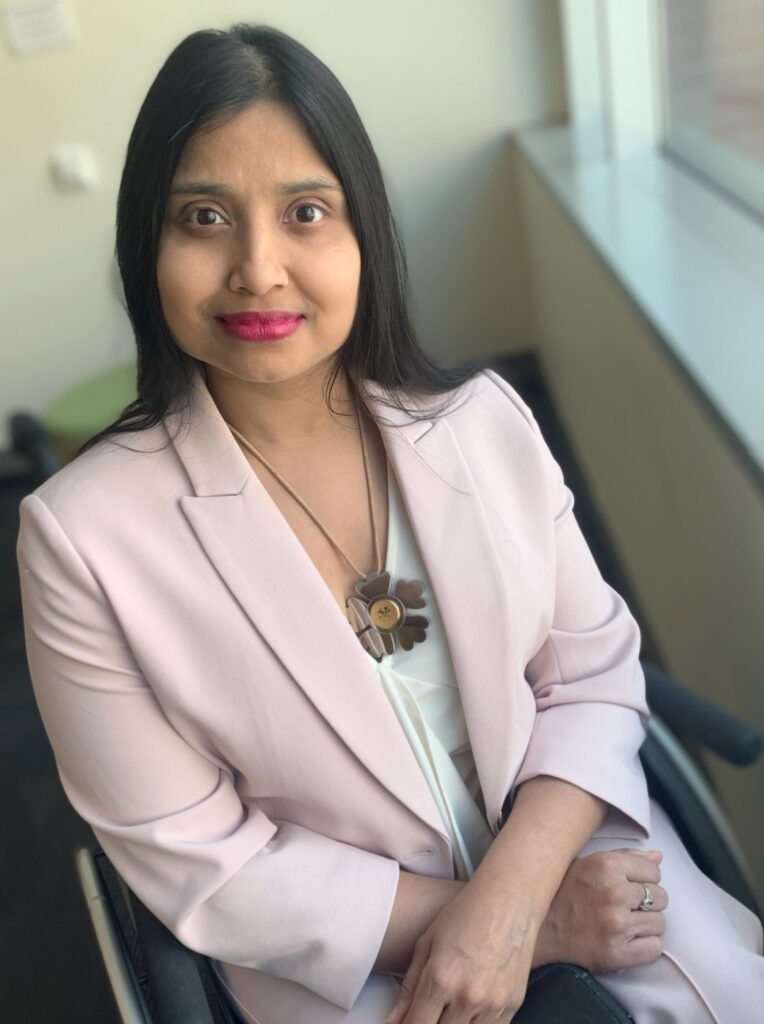 Remarks in support of HB 2280
My name is Neelam Dhadankar and I'm the Healthcare and Home and Community Based Services Policy Analyst at Access Living. I'm here to talk about why Access Living believes that it is crucial to pass the Illinois Health Care Cultural Competency bill (HB 2280).
There are over 2.3 million people with disabilities in IL, that is 23% of the population (or 1 in 4 adults). Nationally, there are 61 million people with disabilities. This particular population comes from diverse backgrounds in terms of ethnicity, language, sex, gender identities, and immigration status.
I don't think it will surprise anyone when I say that people with disabilities face a multitude of barriers. While it is true that doctors treat people with disabilities with a variety of chronic health conditions all the time, a recent study conducted by Dr. Lisa Iezzoni at Harvard has indicated some disturbing findings: Physicians hold intense bias and misunderstandings about us [people with disabilities].
Physicians across the country and of different specialties were asked about their perception of disabled people in this study, which revealed that most doctors held stigmatizing and stereotyped views of persons with disabilities. Further, 82.4% of the 714 doctors who participated in the survey reported that they believe that people with disabilities have a lower quality of life than people without disabilities, showing an inherent bias.
These faulty assumptions have resulted in healthcare disparities and compromised treatment of disabled people. Many doctors believe that disability is a personal tragedy. For example, when I was on dialysis in my 20s, my physician attempted to dissuade me, on many occasions, from receiving a kidney transplant.
I was an excellent candidate for a kidney transplant. After being evaluated by nephrologists, nurses, social worker, dietician, transplant surgeons, dentist, and many other specialists, I was finally approved to be on the wait list. This process is very long and patients are very carefully vetted for the transplant. Yet, he still kept insisting that there is no point in receiving a transplant.
I had another physician say to me in an ER,"I don't know your anatomy, I don't know what to do with you."
This happened when my blood pressure was dangerously high and my kidneys were failing, which I found this after going to a different hospital. And this doctor who made those very offensive remarks was the head of the ER. At a time when I needed the proper care I instead had to fight for myself.
I know of many people with disabilities, who have been neglected in ERs and in many various clinical settings, because of a language barrier, an inability to communicate their needs properly, their physical appearance, or a significant developmental disability.
As a woman with a disability with chronic health challenges, I can tell you how absolutely critical it is for healthcare providers to recognize and understand appropriate care for a patient during their cross-cultural experiences with us.
Evidence shows that variables such as sex/gender, ethnicity, disability, language barriers, and immigration status have an impact on healthcare outcomes. By the year 2030, about 40% of U.S. residents will identify themselves as something other than White non-Hispanic individuals. And this number is expected to climb to approximately 50% by the year 2050. The concept of cultural competence is considered an essential part of medical training, even by many healthcare professionals themselves, because of an ever diversifying patient population and workforce.
We wish here at Access Living that the Illinois State Medical Society and our legislators will keep an open mind and support HB2280 based on facts and evidence. Stopping discrimination is only the first step. To truly meet our needs, doctors need to know how to deliver culturally competent service. The ability to identify and understand people of diverse backgrounds is a critical component in providing the healthcare we need.