NEW YORK — The Ford Foundation announced today that Marca Bristo has been elected to serve as members of its Board of Trustees.
Bridget Hayman
Director of Communications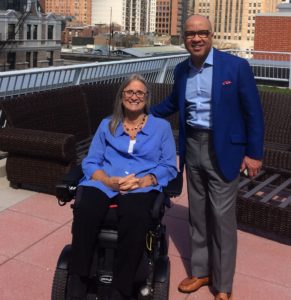 Bristo is the founder, president, and CEO of Access Living, a Chicago-based disability service and advocacy organization that empowers people with disabilities to lead independent, satisfying lives. Access Living is nationally recognized as a leading force in the disability advocacy community, and Bristo has worked for more than four decades on local, national, and international social and policy reforms that protect and promote the rights of people with disabilities.
In 1994, she was appointed by President Bill Clinton to chair the National Council on Disability, becoming the first person with a disability to hold the position. Earlier, as a member of the US Task Force on the Rights and Empowerment of Americans with Disabilities, Bristo worked to draft and win passage of the Americans with Disabilities Act. More recently, while president of the US International Council on Disabilities, she campaigned for US ratification of the UN Convention on the Rights of People with Disabilities.
Bristo's perspective will be critical as the Ford Foundation carries out its commitment to integrate disability issues into its work addressing inequality in all its forms.
"I am so honored to be joining the board of the Ford Foundation," said Bristo. "Its mission aligns perfectly with my life's work: ending injustice and inequality by advancing leadership, inclusion, and empowerment of those at the margins of society and through meaningful enforcement of civil and human rights laws."
Bristo is a trustee of Rush University Medical Center and of Forefront, the nation's only statewide membership association aimed at facilitating collective action by nonprofits, grant makers, public agencies, advisors, and allies. She received the Distinguished Service Award of the President of the United States and the Americans with Disabilities Act Award for her role in the creation and passage of the law. She holds a BA from Beloit College and a BS in nursing from Rush University.