Bridget Hayman
Director of Communications
Access Living Names Commissioner Karen Tamley of the Chicago Mayor's Office for People with Disabilities Its Next CEO
Tamley to Take Role March 2, 2020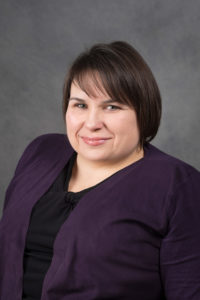 CHICAGO – Access Living's Board of Directors today announced that Karen Tamley has been named the next President and CEO of Access Living, a move that will bolster the organization's longtime reputation as a leading force in disability rights and services in Chicago and nationwide.
Tamley takes the role March 2 and brings a unique depth of experience with advocacy, public funding and policy, having served as Commissioner of the Mayor's Office for People with Disabilities in Chicago for 14 years. She has tackled disability policy and accessibility initiatives under three Chicago mayors — Richard M. Daley, Rahm Emanuel, and, most recently, Lori Lightfoot. She also worked at Access Living from 1996 to 2005, under founding CEO Marca Bristo, first for three years as the Housing Policy Coordinator and then for six years as the Director of Programs.
"I'm proud and honored to rejoin Access Living to lead this impactful organization into the next decade," said Tamley. "As Access Living celebrates its 40th Anniversary this year along with the 30th Anniversary of the Americans with Disabilities Act, we will continue to be a trusted voice and driver of disability rights nationwide."
Access Living launched a public search for a new President and CEO last fall, after Bristo stepped down, and soon after passed away from cancer on September 8, 2019. Bristo was internationally known for her disability rights advocacy. People around the world mourned her death.
"Marca's extraordinary vision guided Access Living for nearly 40 years to become one of the nation's most impactful disability organizations," said Board Chairman and Partner at the Chicago law firm Mayer Brown LLP, John Schmidt, who led the search committee. "The board has complete confidence that Karen Tamley is the right person to sustain Access Living's national leadership and to take it to the next level."
In her role as Chicago Commissioner, Tamley has led disability-related work in the areas of transportation, city infrastructure, technology, emergency planning, education and employment. She also oversaw the delivery of direct services including in-home supports, home accessibility modifications, and employment services to thousands of youth and adults with disabilities. All of this directly aligns with Access Living's service, legal and advocacy work.
"In a career in City Hall that has encompassed 14 years, two decades and three mayors, Karen has built a legacy in Chicago that has made us more accessible for our residents and visitors, and in doing so moved us closer to our vision for ourselves as a fully inclusive and welcoming city for all people," said Mayor Lori E. Lightfoot. "Karen's visionary leadership can be seen in everything from our streetscapes, intersections and train stations, to our housing policy, office buildings and service programs. Though she will be sorely missed by myself and everyone here at city government, her impact will continue to be felt for years to come as she embarks on her new role with Access Living, and a new chapter in her long journey of advocacy for disability rights and dignity for everyone."
Tamley is involved with disability rights nationally. In 2016, Tamley was appointed by President Obama to serve on the United States Access Board, which develops national accessibility guidelines and standards. In March of 2019, she was elected Chair of the Access Board.
"We are thrilled to welcome Karen and are eager to work alongside her as we recommit ourselves to improving the lives of people with disabilities," said Access Living's Acting CEO Daisy Feidt, who will continue to serve as Acting CEO. After Tamley's start, Feidt will return to her position as Executive Vice President at Access Living to work closely with Tamley and the rest of the leadership team moving forward.
Tamley's personal experience with disability runs deep. She was born with a disability and has used a wheelchair all of her life. Her husband, Kevin Irvine, also has a disability and the couples' adopted daughter, Dominika, now 14, was born with multiple disabilities. All three have been actively involved in grassroots disability advocacy locally and nationally.
"I am honored to take the role of CEO of Access Living to both protect and further the rights and opportunities of people with disabilities in Chicago, Illinois, and beyond," said Tamley.
Tamley's community board service work includes: co-founding and serving as Board Chair of ADA 25 Advancing Leadership, co-chairing the Disabilities Fund at Chicago Community Trust, and serving as an Advisory Board Member of Disability:IN Chicagoland, a business-to-business network of companies committed to disability inclusion. In 2015, Tamley received the Motorola Solutions Excellence in Public Service Award from the Civic Federation, which recognizes a non-elected government official for having an extraordinary impact on the quality of state and local government services in Illinois, and she received the Distinguished Fellow award from Leadership Greater Chicago. She is a graduate of the University of California, Berkeley.
###
Established in 1980, Access Living is a disability led change agent committed to fostering an inclusive society that enables Chicagoans with disabilities to live fully-engaged and self-directed lives. Nationally recognized as a leading force in the disability advocacy community, Access Living challenges stereotypes, protects civil rights and champions social reform. Sixty percent of its staff and board are people with disabilities. The organization is funded via private philanthropy and public grants.