Where Universal Design, Green Design, and Accessibility Meet
Designed for the greatest number of uses by the widest range of users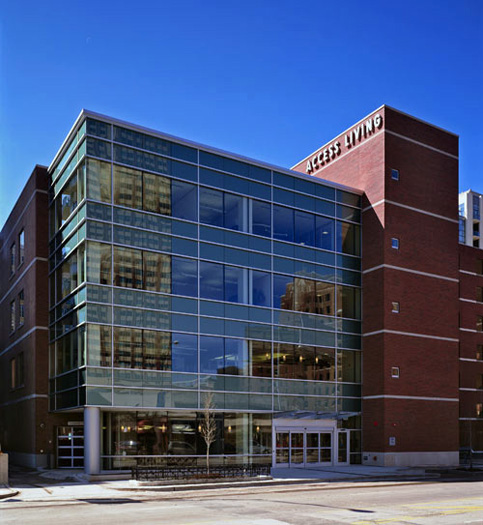 Our building exemplifies our work and our mission. It was designed and built with the needs of people with disabilities foremost in mind. It opened in 2007 after years of planning and a four-year fundraising campaign. It is one of the the first examples of universal design – accessible to all – and green design – environmentally friendly – to be built in the United States. The building project was spearheaded by LCM Architects and architect Jack Catlin, who uses a wheelchair himself.
The artwork of dozens of artists with disabilities graces its walls, as do photographs that capture pivotal moments in the disability rights movement.
Our building hosts meetings, public forums, hearings, symposiums, trainings and other events, helping to raise the visibility of disability culture. Others visit us to see how a barrier-free office space works, or to participate in disability advocacy groups and arts and cultural events. In addition to local visitors, hundreds of people from across the country and around the world have toured Access Living.
At this time public tours are not being offered of our building, but we may offer private tours on a case-by-case basis. To inquire about scheduling a private tour, please contact Bridget Hayman via email.
Check out the events calendar for upcoming events, workshops, meetings, and presentations at Access Living. You can also get directions to our building and request an accommodation in advance of your visit.