COVID-19 Emergency Provider Back-Up Program
Beverly Chick
Personal Assistant Training Coordinator
In response to the COVID-19 pandemic, the Community Supports Team has been hard at work making sure that our consumers receive the services they need. One of the most significant needs that the department is working to fulfill currently is the need for Personal Assistants. PAs are considered essential and necessary should be continuing to do their work without interruption.
Emergency Provider Program Details:
If you currently receive home services through the state and need an emergency provider due to COVID-19, you can call us at Access Living at (312) 640-2169 for assistance.
---
Personal Assistants: An Independent Living Resource
As part of the Independent Living philosophy, Access Living provides disabled people with the resources to hire and employ their own personal assistants. We also train people who would like to become a personal assistant for people with disabilities. Please Note: Access Living is not a hiring agency for personal assistants.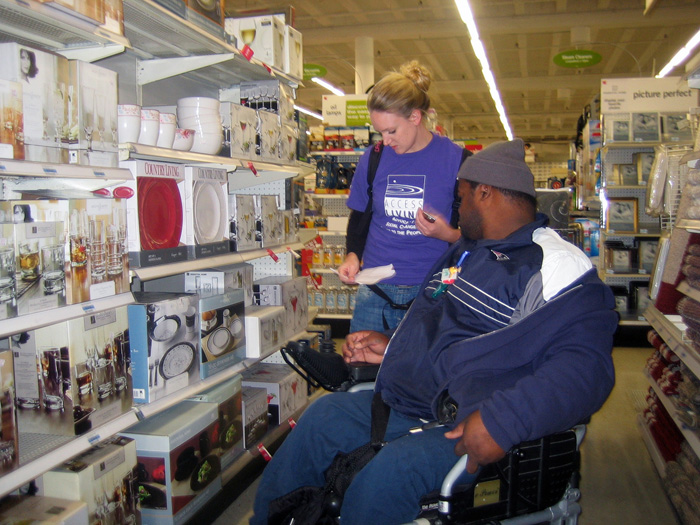 How do I hire my own personal assistant?
Access Living keeps a database of certified personal assistants available to hire for people with disabilities to access. You tell us about your needs and what you're looking for, and we'll send resumes for you to review. After that, you choose which people you'd like to interview and hire.
Our coordinators can help you navigate any issues you might have with your personal assistant, such as communicating how you would like an activity performed, terminating their employment, and more.
To access the PA database, or to learn more, please contact a Personal Assistant Coordinator.
---
How to become a personal assistant
Beverly Chick
Personal Assistant Training Coordinator
Access Living provides training for people interested in becoming a Personal Assistant. Training sessions are held several times a month at Access Living and at other local community organizations. View our events calendar for upcoming training dates.
To attend PA trainings you must bring your:
Photo ID (Driver's License or State ID)
Social Security Card
Resume and three professional references
Certified Nursing Assistant Certificate (if applicable)
An RSVP is required to attend a PA training session. Please consult the events calendar to RSVP.